The success of an immigration law firm hinges on a consistent, predictable pipeline of clients.
And as much as immigration lawyers have the best interests of immigrants in mind, you have to be a little bit selective: you can't just take anyone looking for your help. Your firm needs to be compensated for the effort you put in working on and winning each case.
By creating a pipeline of new and returning immigration clients who are looking for and can pay for your particular legal service, your law firm will profit. And, you can help other immigrants in need.
To do this, it's necessary to develop and implement an effective immigration law marketing strategy. This will allow you to increase your online presence and consistently generate highly-targeted leads who are ready to become your clients.
In this post, you will learn how to build the right legal marketing strategy using the best tactics available, so more prospective clients can find your law firm online and take advantage of your services.
Why Is SEO Important for Immigration Attorneys?
Among the various online marketing tactics for immigration law firms that we'll discuss, search engine optimization (SEO) should be one of your primary methods of attracting clients.
SEO refers to the method of ranking your website at the top of Google search for your target keywords. For instance, since you run an immigration law firm, you want your website to appear on Google when people type "immigration firm" and your location (or similar terms).
This way, prospective clients who are looking for an immigration lawyer to help them with their case may easily find your site and hire you for the job. Once you start ranking for search phrases relevant to your practice, you get hot leads to your website who are ready to become your new clients. This is how SEO works in a nutshell.
Later on, we'll break down the nuances of this tactic so you or your marketing team can properly develop an SEO strategy for your business.
The beauty of SEO compared to other tactics is that you can passively attract potential clients. You don't have to constantly promote your practice on social media or spend on paid ads — as long as your site is ranking for its keywords, you can land clients even without doing anything!
As time goes on, there's a possibility that your site may drop from its current ranking for various reasons. Just because you're ranking on Google search at one point does not mean you can rest on your laurels and reap the benefit of your hard work for eternity. In fact, much of the real work begins once you're ranking at the top of Google and need to keep your firm on top.
Marketing Strategy Basics for Immigration Attorneys
While SEO will most likely be at the core of your marketing plan, it's just one of the many tactics you must integrate into your strategy.
To increase your online visibility, you need to promote yourself on various channels where your target clients are active. This way, you boost your chances of getting seen and hired. But before we discuss which of these tactics are, you must understand first what a good marketing strategy looks like.
Here's what to consider when building your law firm's strategy: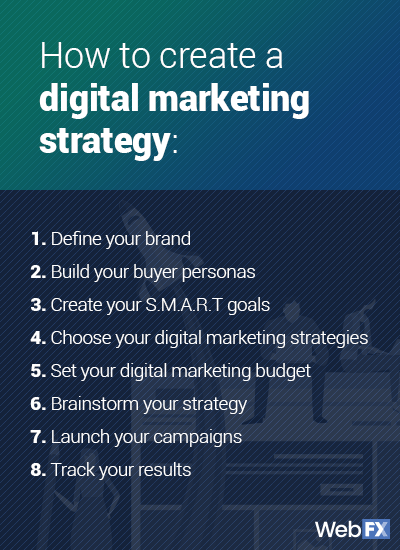 Source: WebFX
Define Your Brand
You need to have a clear grasp of what makes your practice unique, if not better, from the other immigration law firms in your location. By knowing what your law firm is and isn't, you can position your brand in a way that will set your firm apart from the rest.
Build Your Buyer Persona
Once you understand what your brand is, you need to profile the buyer persona whom you are targeting with your firm. Break down its characteristics using demographics such as age, income, education, hobbies, and others. This allows you to build marketing campaigns based on the features of your buyer persona.
Create Your S.M.A.R.T Goals
S.M.A.R.T. stands for:
Specific – Have a clear goal in mind for your strategy and campaign.
Measurable – You should be able to track and monitor your campaign and its results, as well as make changes if necessary.
Attainable – Make sure you can achieve your goal in a reasonable amount of time.
Relevant – Your goal in mind should align with your values and objectives.
Time-Based – Strike the balance between ambitious and realistic for your marketing campaign.
Developing a strategy and campaign that observes the S.M.A.R.T. principles can help you achieve your law firm's wildest dreams.
Choose Your Digital Marketing Strategies
As mentioned, you need to develop a plan involving various online marketing tactics aside from SEO. The key is to create a strategy where all tactics work in unison towards a single goal. Later on, we'll find out the different tactics you can use and how you can use each one properly.
Set Your Digital Marketing Budget
Ideally, you want to integrate all marketing tactics into your strategy. Casting your net wide allows you to pull in more leads this way.
However, it's impossible to do this unless you have deep pockets and unlimited resources at your disposal. Instead, focus on using the best tactics that fit your budget. Once you have a set amount for your campaign, work your way with what you have for your strategy.
Brainstorm Your Strategy
Put ideas on paper regarding how you can use the tactics to generate leads and land more immigration clients. Then discuss with your team of immigration attorneys which ideas work best and why.
At this point, you should put your collective minds together and create a strategy that is agreeable for all.
Launch Your Campaigns
Once the brainstorming session is done, a clear strategy should be set into motion and everybody should know their roles to achieve your firm's goal.
Before rolling out your campaigns, make sure that you are able to capture information regarding campaign progress. This is important to help execute the last and most important step of your marketing strategy.
Track Your Results
Over time, you need to check and view the results of your campaigns. Determine which marketing tactics yielded the most leads and clients for your legal services and why.
From here, you can double down on these tactics to generate better results for your next campaigns. At the same time, you can either improve on tactics that didn't perform as well or disregard them on your next campaigns.
Get More Clients with Online Marketing Tactics for Immigration Law Firms
We've just discussed the framework of a successful immigration lawyer marketing strategy. Now, it's time to delve into the different tactics that immigration lawyers can use for building brand awareness and getting more clients on board.
On-Page SEO for Immigration Law Firm
For your site pages to rank, you must ensure that search spiders can crawl and index them. There's a slim chance your site is configured incorrectly, thus preventing your pages from showing up on SERPs despite having valuable content in them.
To solve this potential issue, you must run a technical SEO audit on your site. This process diagnoses your site for the following problems (but are not limited to):
XML Sitemap – You must submit an XML sitemap containing all the pages on your site to help search engines crawl and index them.
Orphaned Pages – These are pages that don't have internal links pointing to them. As a result, search spiders can't find them on your site.
Thin and Duplicate Content – These content types are copied from an existing page (duplicate) and don't provide value to users due to a lack of information (thin).
Noindex Pages – This tag allows you to prevent search spiders from indexing a page. It's possible that pages you want to rank have this tag in them.
Canonical URLs – Use this if you have different variations on the same page. This informs spiders that the main page is the canonical version while the others are just variations. In this case, spiders will put an onus on the main page than the rest.
Core Web Vitals – A score that computes page speed and user interface and experience. The lower the score, the slower and poor the UI of the site is.
4xx Pages – These pages are broken and return an error page when users try to access them. These may have existed before but have changed URLs or have been deleted.
To help you spot these issues, you can use Google Search Console and Ahrefs' free Site Audit feature. In particular, Ahrefs shows the aggregate score of your website's health to better monitor its progress.
Find the Most Relevant Keywords with Keyword Research
To increase your website traffic coming from Google, you need to know which keywords to rank your website for. Obviously, you'll want to find keywords related to immigration law.
To do this, hop on to Google Keyword Planner and type your practice area (your keyword) on the search bar. The next page should show you different keyword suggestions and ideas you can use to optimize your website.
This part also shows you the range of times the keyword is searched on Google. This is important because you want to rank for terms that people search for. Once your page starts appearing on the first page for these keywords, expect organic traffic to come your site's way.
From here, however, you still need to choose which among the hundreds and thousands of keywords you should optimize for your website. This is where keyword intent comes into play. There are three types of keyword intents. But for the sake of discussion, your primary focus should be on informational and commercial.
Source: Wordstream
The end goal of visitors searching for informational keywords is to learn more about a topic. On the other hand, users searching for transactional keywords are looking to perform an action.
If you want to convert visitors into clients, you must find the most relevant transactional keywords for your law firm.
However, they still won't become clients unless you can prove to them that you are authoritative and trustworthy. This is why you also need to publish informational content to show prospects that you know how your law firm can help them.
Why Is Content Optimization Important?
Once you've narrowed down your keyword list, you need to create content for them and get them to appear on search engines. Observing the best content optimization practices is one of the foundations of a high-ranking web page.
However, there's more to it than this. You also need to structure your content pages in such a way that all related pages are interlinked with each other. This process called topic clustering allows you to increase your site's topic relevancy by organizing your pages into subtopics.
Here's what the topic clusters look like:
Source: HubSpot
Each circle represents the subtopic or pillar pages of your site. The surrounding shapes interlinked around it are the supporting articles that add context to the pillar page. The articles within a cluster don't link outside of it.
The reason is that you want the clusters to only interact with relevant pages and topics is to increase their respective authoritativeness on the given subject.
Ideally, your pillar pages should be optimized for commercial intent keywords while the supporting articles are for informational keywords.
By creating a clear organization of grouped pages in your website, you help Google understand what your site is about. And by publishing high-quality content strictly about immigration law, you can eventually rank on Google and rake in organic traffic you deserve.
What Link Building Tactics Work?
To help you reach the top position of search engine result pages (SERPs), you also need to build backlinks to your site. We have covered the basics of link building and the different backlink types your site can acquire over time.
However, you can't just stand around and wait for websites to link to your site even if you have created linkable assets. You still need to make an effort to reach out to site owners for that all-elusive backlink.
One of the most tried and tested link-building tactics is guest posting. The goal is to find sites that the majority of your target audience visits. Then reach out to those sites asking to write a piece of content for them. Once they agree, you must create the content with a link to your site (either in the content body or author byline) and submit it to them for review. When writing content, observe the editorial guidelines they will share with you.
Below is the gist of the guest posting process:
Source: PointVisible
This link-building tactic works because it goes both ways. By providing great content to the website owner for free, they'll be more inclined to publish your content with a link to your site.
Aside from its off-page SEO benefits, guest posting allows you to build an audience and expand your web presence by writing for multiple sites.
The process may appear simple. But you'll have to overcome different obstacles along the way. For example, you need to make sure your email is well-written, straight to the point, and not spammy.
Also, there's a chance that site owners won't respond to your email due to various reasons. That means you have to prepare follow-up emails to send to each other to increase the response rate. However, if you have a solid guest posting campaign in place, you should be able to get more published content than not.
Another method you can partake in is via HARO or Help a Reporter Out. This requires you to send journalists quotes in the piece they're writing. If they chose your quip, your name gets published in the article with a link to your site for your trouble. The approach to this method is different compared to guest posting.
Therefore, you need to know the best practices to ensure that the time spent on this campaign is put to good use.
Use Google Ads for Generating More Leads
To help you generate the most leads for your immigration firm in the least amount of time, you may have to go the paid route via Google Ads.
Launching an ad campaign may seem daunting for beginners. However, one thing to keep in mind with ads is to improve their ad rank to increase their click-through rate.
You can achieve this by getting a higher quality score and the bid for the keyword where you want your ad to appear.
Source: Channable
It's possible to take a look at the ad campaigns of your competitors in order to get inspiration for your own.
Using tools like Spyfu, you can see the keyword they bid for and the copy used on their ads. Use this information to help you create campaigns that will keep you competitive against them.
Unlike SEO, a Google ad campaign takes effect immediately and produces results upon launch. Users will see the ad displayed on top of SERPs just before the first organic results appear.
On the downside, an ad campaign can be costly over time. You'll have to launch monthly campaigns to generate leads through this channel. More importantly, you need to get your ROI with your campaign every time to consider it a success.
Nevertheless, ads have a place in your marketing strategy. As long as you execute the plan to a tee, expect leads to start coming in a few days after launching a paid campaign.
Immigration Lawyer Social Media Strategy for Increasing Website Traffic
Social media marketing is one of the most popular channels to drive website traffic, build a devoted following, and improve conversions.
The key to a strong social media presence is to determine which social media networks the majority of your audience is in.
With your buyer persona in mind, only engage on social media channels that align with your demographics and goals.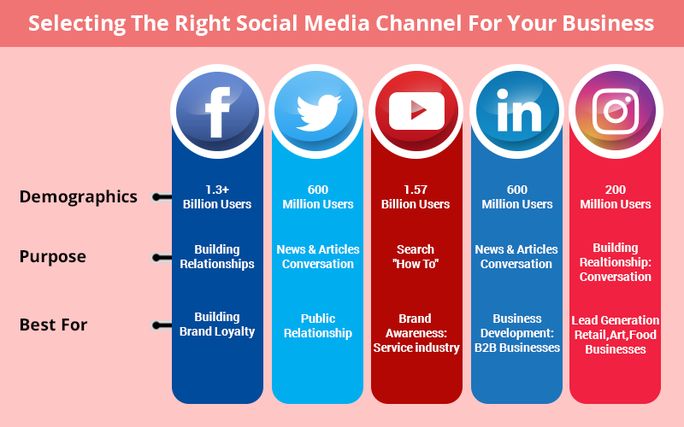 Source: SocialPilot
From here, you must build genuine relationships with your target audience. One way of doing this is by consistently sharing content relevant to them.
Using a tool like Buffer allows you to schedule your content months in advance so you can be sure to have posts published regularly even when you're offline.
When building a social media calendar, don't constantly share your services. Aside from sharing your informational content, share content from other sites related to immigration law to provide value and spark discussion with your followers. You can even comment on these articles to help build your expertise and authority about the subject.
Finally, you must respond to all messages you receive as soon as you can. Being quick with your replies shows users that you're willing to engage and build relationships with them. If you're on multiple social channels at once, it's hard to stay on top of your inboxes at the same time.
To make checking your messages simpler, you can use a social inbox feature available in tools like Agorapulse. This allows you to check your inboxes from the different sites in a single dashboard.
Feature Reviews and Referrals on Your Immigration Law Firm Website
A great way to generate business for your law firm is to feature reviews of satisfied clients on your site.
Nothing says authoritative and trustworthy more than a glowing review about how you helped clients regarding their immigration case. The reviews also work as referrals in a way. The more positive reviews your site receives, the greater chance you can encourage people to try out your services.
To collect reviews, set up a Google My Business account for your immigration law firm. Then, you can start getting clients to leave a review about your business.
The challenge is encouraging clients to write a review about your legal services. It's illegal to incentivize Google reviews unless explicitly stated in the review, which taints the credibility of the review in the process.
The best way to approach gathering reviews is to make it easier for clients to leave them. Send them follow-up emails reminding them to write a review. Also, link from your site to the review page so they can write it from there.
Now, there's a possibility that you'll receive negative reviews. Instead of attacking the client for sharing their opinion, you need to be professional and learn how you can improve your services. This is assuming that the review offers constructive criticism about your firm.
Use the reviews you receive, whether positive or negative, as an opportunity to show prospective clients that they should give your immigration legal services a chance.
Case Study: SEO Strategy Can Increase Monthly Inquiries by 300%
SEO is an essential part of your strategy to increase organic traffic and subsequently get new clients and calls.
For immigration law firms, the focus is not only the area where a law firm HQ is but oftentimes statewide or even national, as the practice area, by nature, includes people in other locations.
For our clients Manji Law and Tadeo & Silva Immigration Attorneys, we managed to increase the number of monthly inquiries from 50 to 189 for one of them and achieve a 568% increase in leads for the other client!
This was achieved by a carefully planned strategy including multiple steps. We utilized all of the factors mentioned in this article, although our primary tactics were content development and backlinks.
We did thorough research on topics that are highly popular for potential immigration clients. We found that articles answering popular questions around how to get a green card or different types of immigration, such as family or business immigration, not only resonated well with the audience but also attracted a lot of traction from Google.
This attention from Google resulted in ranking for many highly-relevant keywords and thus brought valuable clients to our clients' websites.
We built topical clusters around questions that people ask online regarding immigration, we added content-rich results answering those questions, and we promoted that content.
This strategy resulted in two of our clients ranking on the first page of Google for a tremendously competitive keyword "Immigration Attorney in Atlanta."
Another one of our clients requested a local ranking for immigration in Austin, Texas. In 4 months of continuous SEO, we managed to get his website not only to the first page for the desired keyword, but also to raise the number of keywords he ranked for from 1200 to more than 2000.
This led to a 100% increase in his organic traffic in such a short period of time.
Working on these websites has proven how picking the right content and answering the right questions, in combination with other methods, can achieve first-page ranking for anyone in the immigration law practice and multiply their number of leads and clients in a short span.
Conclusion
As you can see, there's a lot you can do to promote your immigration law firm to your prospective clients.
Before building your strategy, however, you need to lay down the foundation by figuring out who your typical client is, what they're searching for, and how much your marketing budget is, among other items.
From here, it's a matter of figuring out which tactics and channels you should focus on for your strategy and campaigns. We believe SEO provides the greatest long-term value for law firms, so we highly advise that you make it the center of your marketing plan.
You can then pick and choose other tactics to implement based on the resources you have available.
The information found in this post may be overwhelming if you have no experience launching a full-fledged marketing campaign. But you can start small with just one tactic, or, we can help.
If you simply want to focus on your legal practice, our marketing professionals can do everything for you and implement a winning campaign for your firm ASAP.
To learn more, schedule a call with us and we'll be more than happy to offer a free, personalized strategy session.