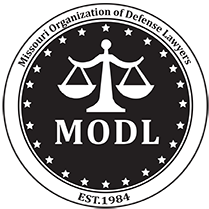 THE MISSOURI ORGANIZATION OF DEFENSE LAWYERS PRESENTS

YOUNG LAWYER'S GUIDE TO PREPARING
A WITNESS FOR A DEPOSITION
Membership Webinar
Registration Information:
 
Event cost is $25
Includes 1.2 hours MO CLE Credit
FRIDAY, FEBRUARY 24, 2023
12:00 P.M. – 1:00 P.M.
Description
Date: February 24, 2023
Price: $25
Includes 1.2 hours MO CLE
"This presentation will focus on training young lawyers how to prepare a client or lay witness for a deposition. We will cover the standard "deposition rules" to cover with such individuals and how to put a client at ease during this stressful time leading up to a deposition."
MATT NOCE, is a trial attorney who represents various religious entities, private and public schools, utilities, insurance carriers and individuals in various litigation matters involving personal injury, civil rights and employment claims. He also serves as an advisor to several schools in the St. Louis area on general student-related and employment matters. Matt is currently the Vice President of the Missouri Organization of Defense Lawyers and has served on its Board for the past 8 years. Matt is also a current member of the Executive Committee and Treasurer for St. Louis County Bar Association, and he received the Roy F. Essen Memorial Award from that organization in 2016 which is awarded annually to a young lawyer "in recognition of his excellence and distinguished work as an outstanding young lawyer, his distinguished service to the organized bar and his service to the community." Matt is an alumnus of St. Louis University High School (1998), the University of Missouri (B.A. in Political Science – 2002), and Saint Louis University School of Law (J.D. 2005). He is a member of the Missouri Bar and Illinois Bar. Matt has been recognized by Super Lawyers® as a "Rising Star" in civil litigation since 2013.
RACHEL A. RISO, received her Bachelor of Arts degree in Communication, summa cum laude, from the University of Northern Iowa in 2000. In 2004, she received her Juris Doctorate from the University of Kansas School of Law. While in law school, Rachel was a member of the National Moot Court Team. Rachel is licensed to practice in Missouri and Kansas and the Unites States District Court, Western District of Missouri. Her professional affiliations include: Springfield Metropolitan Bar Association; The Missouri Bar; Missouri Organization of Defense Lawyers (Board Member: 2014–2020; Chair of the Amicus Committee).  Rachel's practice areas include: Labor and Employment Law; Employment Litigation; and Insurance and Municipality Defense.
RYAN TURNAGE, is Corporate Counsel – Claims Manager for Schnuck Markets, Inc., a private St. Louis, family–owned grocery store. Schnuck Markets, Inc. is a traditional grocer with 114 grocery stores in Missouri, Illinois, Indiana, and Wisconsin. Ryan has been with Schnucks since January 2016. He has responsibility for managing general liability claims and defending the Company in general liability litigation in Missouri and Illinois. Ryan has experience handling general liability matters from inception through jury trial and appeal. Ryan received his Juris Doctorate degree from Saint Louis University School of Law in 2009 and has practiced in the area of civil litigation since then.