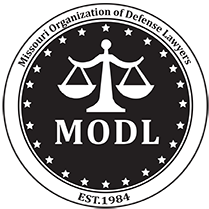 MODL/THE MISSOURI ORGANIZATION OF DEFENSE LAWYERS

Expert Discovery: Tips for Utilizing An Expert in Your Case and Challenging the
Plaintiff's Expert
Membership Webinar
Fee: $25, includes: 1.2 Hours MO CLE. 
Friday, May 6, 2022
12:00 noon – 1:00 PM
Description
Date: May 6, 2022
Price: $25
Includes 1.2 hours MO CLE
In this presentation, former MODL President's Debbie Champion and Bob Buckley will discuss some key considerations for selecting expert witnesses for your case and tips for you to challenge the plaintiff's experts!
Questions: Call the MODL Office at 573-636-6100
DEBBIE CHAMPION,
is a founding partner in the firm Rynearson, Suess, Schnurbusch and Champion, one of the 20 largest law firms in Missouri. Ms. Champion has been named to the top 50 attorneys in St Louis and the top 100 attorneys in Missouri. She has been honored by the St. Louis
Small
Business Magazine as a Wonder Woman, and by the St Louis Business Journal as one of the Top 25 Most Influential Business Women in St. Louis. She is a 2022 Titan 100 of St. Louis. Champion has been selected to the Best Lawyers in America, and she appears on the Best Lawyers list in
Personal Injury
Litigation-Defendants, Insurance Law, Government Relations, and Litigation-Insurance. She was 2020 Lawyer of the Year for Missouri in the area of Litigation-Insurance. She appears in America's Top 100 Attorneys List and received the Lawyer's Lawyer Award by the Women's Justice Awards. Champion is a Fellow in the American College of Trial Lawyers, and she is a Senior Fellow in Litigation Counsel of America. For several years, Ms. Champion has been named as one of the top 50 Women Lawyers in Missouri and Kansas by Superlawyers. Champion achieved the most Defense Verdicts in Missouri in 2012 and 2013 and one of the largest Defense Wins in 2011 and 2019.
ROBERT J. BUCKLEY, is a partner in the law firm of Schreimann, Rackers, and Francka, LLC in Jefferson City, Missouri. He has successfully defended and tried cases throughout Missouri for more than 25 years. He is the past President of the Missouri Organization of Defense Lawyers, former Missouri State Representative for The Defense Research Institute (DRI) and former member of the Missouri Bar Board of Governors. Bob has been elected into membership of the American Board of Trial Advocates (ABOTA) and the Federation of Defense and Corporate Counsel (FDCC). He and his wife Amy have three sons and live in Columbia, Missouri.
CLAYTON THOMPSON,is an attorney at Ford, Parshall & Baker, LLC in Columbia, Missouri where he primarily represents nursing homes and long-term care facilities. He is a member of the MODL Board of Directors and a graduate of the Missouri Bar Leadership Academy. Clayton lives in Columbia with his wife Elizabeth, sons Lehr and Huck and daughter Margot. In his spare time, Clayton reads British spy novels and supports Mizzou football and basketball and the Liverpool Football Club.