This is a complete guide to the strategies we're using to win more high-value cases for our criminal defense clients in 2022.
So if you're looking for:
More visibility on Google.
Better positions for the top keywords in your market.
More high-value cases.
Then you'll love the proven techniques we cover in this new guide.
Let's get started!
An SEO Juggernaut in Missouri

The Problem

Prior to working with Constellation, the Missouri DWI & Criminal Law Center was on the 5th page of Google. Their website received around 50 new visitors from Google each month. The firm was only ranking for their own name and found new leads outside of referrals hard to come by.

They needed a way to reliably generate new, high-value prospects.

The Results

Fast forward to today, and the firm is an SEO juggernaut in the State of Missouri.

The firm's site is now on the 1st page of Google for over 580 keywords. And as a result of that visibility in the organic search results, they now see an average of over 1,500 users per month, all from organic search. Acquiring the same number of visitors through Paid Ads would cost thousands and thousands of dollars every month.

Even though the firm is located in a small suburb in metropolitan Kansas City, they command top positions for numerous highly-lucrative, statewide keywords.
How Can You Get More Criminal Defense Clients? Be S.M.A.R.T.
In this first section, we're not going to cover any strategy in particular. Instead, we'll focus on your mindset.
We'd argue that having the right perspective on marketing efforts is nearly as important as the strategies you employ. Without the proper mindset in place, you're in for poor results and a lot of wasted money.
In order to come out on top of your competition, you want to run any ongoing marketing strategy through a prism of accountability. This enables you to know what's working and what isn't so you can put gas on the fire at the right time and scale your firm quickly.
This is where the S.M.A.R.T. framework comes into play.
The S.M.A.R.T concept is an effective marketing planning tool, which stands for Specific, Measurable, Achievable, Realistic, and Time-based goals.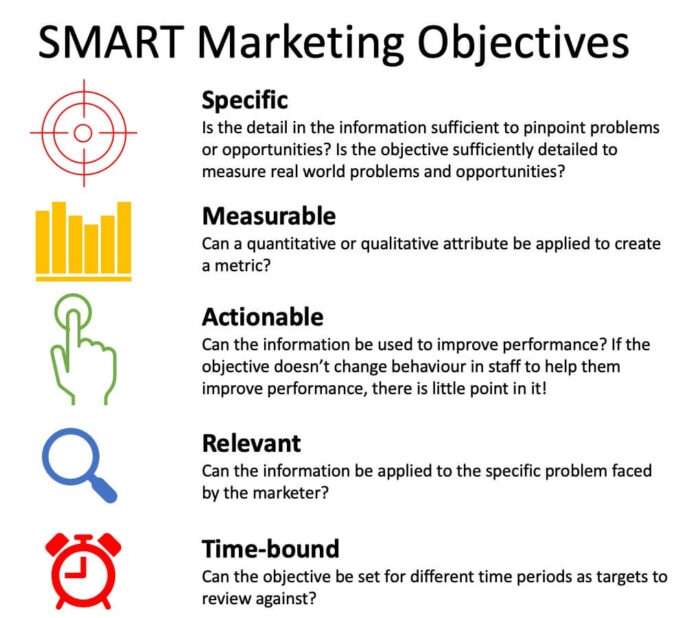 Source: Smart Insights
To achieve your goals, you should be:
Specific
Define the specific marketing goal that is in place. For example, if you want to reach a certain number of criminal defense clients or increase website traffic then define what this will look like. This could be as simple as landing one new client per month for three months.
Measurable
Measure whether or not the objective has been met by setting measurable milestones and time frames on how long it may take to complete your goal  – e.g., 100 visitors in one month's time frame equals $1,000 ad spend.
Achievable
It must be achievable based on what resources are available and who can help with achieving this goal (e.g., criminal defense attorneys/paralegal). Setting goals beyond your capabilities can lead to frustration and lack of motivation.
Relevant
Ensure that the goal you are setting is relevant based on what your marketing goals are for this time period. For example, if a criminal defense law firm's website traffic objective was to increase visits by 20% each month over the last year as they grow their clientele – then it would make sense to set an objective related to increasing web visitors.
Actionable
Provide ideas or steps in how you can reach these objectives with tangible actions
Examples include:
Find ways to promote your blog posts more aggressively,
Write content about topics like immigration law and domestic violence advocacy which will bring in new leads,
Etc.
Click for a free strategy session!
Build a Website That's Better Than Other Criminal Defense Lawyers
It all starts with a good website. Why? You have a split second to deliver a great first impression when someone leaves Google and lands on your site.
Studies show that the average website bounce rate (users immediately leaving) is around 40-55 percent.
And as a criminal defense attorney, your prospective clients most likely need help NOW. So if they don't find what they're looking for on your site, they're moving on to your competition.
If you've done all the hard work of getting someone to click on your page, don't screw it up with a lackluster site.
A website is a good way to connect with potential customers. It can be used as an online portfolio to display your services and skills.
Constellation's Golden Rules for Good Law Firm Websites

1. Make it load as quickly as possible
2. Clearly tell users what you do and why you're the best option
3. Make it dead simple to get in touch with you
4. Add social proof
Arguably the most vital component for a criminal defense lawyer, a site allows you to effectively implement the majority of the internet marketing tactics below.
Just as important, you get to control the narrative on how your online presence is represented to potential clients. You don't have to rely on online reviews from sites like Yelp to tell prospective clients what kind of business you run.
We've highlighted this website because it checks all the boxes. Lots of CTAs, social proof, and it loads lightning quick.
There are different platforms where you can launch your criminal defense law firm or attorney website, but we prefer WordPress.
WordPress is arguably the most popular platform for building websites. It's easy to use for beginners and yet powerful enough for advanced users to maximize their efforts of marketing for a criminal defense law firm or other attorneys.
Click here for a free strategy session!
SEO for Criminal Defense Law Firms
You may be wondering, how do I make sure that my criminal defense practice shows up on Google's search results?
Achieving high rankings on search engine results is a long-term strategy that requires patience and dedication. It's also an investment in your criminal defense law firm or practice because it will pay off over time with more customers at lower costs.
This can be tough for the solo criminal defense lawyer who is trying to juggle new cash flow while also investing in new client acquisition. This is why we are flexible with our solo clients and would rather grow with you than exhaust all of your financial resources before your practice really gains momentum, so you can get more criminal defense clients.
There are hundreds of factors that go into Google's ranking algorithm, but it is largely believed that links and content are the most important. These are commonly referred to as on-page and off-page SEO (search engine optimization).
Let's dive into both.
On-Page SEO for Law Firms
This process refers to ranking web pages by optimizing for controlled variables on your site.
The goal of on-page SEP is to help provide the best user experience on your site by creating high-quality content optimized for relevant keywords to your criminal defense practice.
You have full control over when to publish content and change something on your site in the hopes of increasing your organic rankings, which results in greater organic traffic.
More and more criminal defense attorneys are using content to attract new clients.
Creating pages on your website that correspond with the top searches in your market is THE primary engine to bring people to your site.
Source: TechSoup
The goal of content marketing is to create high-quality pieces of informative content that will attract new leads.
When someone has a pressing need, they get out their phone and Google it.
You want to be here at this PIVOTAL MOMENT when they are looking for help from a criminal defense attorney. Content marketing can help you be there, and the best part is that it's free.
Criminal defense attorneys should implement content marketing throughout the entire business. And since the content you'll be creating should target your audience on different levels of your sales funnel, you must determine the kinds of content you should publish for the goal of getting more criminal defense clients.
Below are the content types you can pursue as part of your digital marketing campaign:
Articles on websites – Publish articles aimed to inform prospective clients about legal practice issues and frequently asked questions related to criminal defense.
Landing pages – Create high-converting landing pages with the goal of attracting target clients and convincing them to work with you.
YouTube Videos – Record and publish easy-to-digest visual content about your legal services on the most popular video streaming platform online for increased viewership.
Podcasts – Promote your expertise as a criminal defense attorney in audio format. You can share with listeners your experiences from past DUI or invite guests to discuss what people must know about criminal defense.
Case Studies – Feature testimonials from satisfied customers to showcase your effectiveness as a criminal defense attorney.
Infographics – Simplify complex jargon about the legal services in the industry into bite-sized content you can publish on your blog and share on social media.
Don't worry. You don't have to create all the content types above.
In fact, we would argue that a defense firm should only focus on creating articles and case studies.
Landing pages will be best for ads. It's highly unlikely that any of the other ideas will be productive, lead-generating strategies for your criminal defense firm, although they can be helpful with general brand awareness.
The reality is that the vast majority of people DO NOT go listen to a podcast when they need a criminal defense attorney. They are getting out their phone and searching on Google, which is why we stress SEO over everything else.
Videos and infographics can be useful deeper in the funnel when you need to convince someone. But, the big challenge for the average criminal defense attorney is getting in front of people at the right time. A nice video can boost your conversions once they are on your site, but no one is finding you from your YouTube channel.
Best tools to use – Ahrefs (for finding the best keywords in your market, Keywords Everywhere (free option for keyword research), Surfer SEO (data-backed on-page optimization)
Technical SEO Marketing for Criminal Defense
There are lots of on-page factors to consider. But before hiring SEO (Search Engine Optimization) specialists, below are simple things you can do to help increase your site's organic traffic.
Use keywords and phrases at the right places – Mention them in your title tags, headings, text content, and alt-text images. Place the most important keywords near the beginning of a post to show them up on Google search results pages when someone searches those keywords.
Speed up your site – How fast your web pages load will determine where they will rank on search engines. Therefore, you need to reduce the file sizes of your images and use CDNs to optimize your content distribution, to name a few.
Refine internal linking strategy – Make sure that related pages that cover the same topic link to each other. Doing so not only improves user experience but also informs Google regarding the relationship of interlinked pages, thus increasing your topical authority.
Best tools to use – Ahrefs (for attorney website audits), GT Metrix (website speed testing), Screaming Frog SEO Audit (to analyze your site's current makeup)
Off-Page SEO for Criminal Defense Lawyers
Off-page SEO is the process of bringing quality links to your site from other high-quality websites.
Every aspiring content marketer has heard the message before: Links are key to your success. But how do you get them?
If you want authoritative backlinks, there's no secret ingredient and it doesn't take a genius-level intellect to figure out that links from authority sites will help your organic ranking more than anything else!
Below are link building tips you must follow to get the boost your law firm website needs:
Focus on quality, not quantity – A backlink from a high-authority site trumps backlinks from thousands of low-quality sites. Therefore, it's best to determine link opportunities that deliver higher ROI regardless of how few they are.
Give people a reason to link back to you – There are lots of reasons why people link to others. But providing useful content to your target audience is one of the best ways out there. Once websites link back to your content, it makes them look authoritative by association.
Check competitor backlinks – If you need ideas on how to jumpstart your link-building strategy, look at your other law firm link profiles. Find opportunities that you can use to get your backlink profile off the right track.
Best tools to use: Ahrefs and Majestic SEO (for backlink research and profiling)
Local SEO for Your Criminal Defense Law Firm
Local SEO is the process of optimizing your website to rank on local search engines so that people in your area can find you.
Local SEO is the practice of optimizing your website to rank well in local search results, in particular the local-3 pack. It's vital for criminal defense lawyers because it can help you attract new clients, which means more business and more money.
Here are some tips for improving your local SEO:
Registering with Google My Business – Sign up for this free platform to establish your local presence in the local market. You can create pages that include business hours or reviews of services you provide for potential clients in your area who are looking online!
Local citations – Sign up to local business directories using the same and latest NAP (name, address, phone number) that you used on GMB. This creates consistency across all directories to increase your chances of ranking on Google's local-3 pack.
Generate positive customer reviews – Getting 5-star Google reviews from customers does not push your search rankings to the top of your target keyword. However, the average star rating and the number of reviews appear as a SERP feature once your site starts ranking on Google. Many prospective and potential clients look at user-generated content to help them make an informed decision and sway them your way.
Best tools to use: BrightLocal, Yext
Paid Ads
Paid ads are a form of advertisement that is purchased from an ad platform.
Criminal defense lawyers should consider using paid ads because it's the best way to reach a large number of people in a short period of time.
When you launch your ad campaigns, it's important to make sure that they deliver results. Before running any campaign, it's necessary to determine the target market and demographics.
Below are other digital marketing criminal defense attorney marketing tactics to help you launch an effective paid ads campaign for your law firm:
Develop a retargeting strategy – If visitors from your ads leave your page for whatever reason, try criminal defense attorney marketing strategy to them again by showing banner and search ads, as well as Facebook and Instagram ads about your criminal defense firm.
Optimize your landing pages further – Know why visitors leave your landing page ads, to begin with, by monitoring the heatmap of your site. See which part of the page the majority of visitors leave and which buttons they click on the page the most to help you in your conversion rate optimization efforts.
Check competitor ads – See the ad copy your competitors used for their Google ads and the changes they made through the years. You'll be able to gain insights from what other law firms have done to promote their site via ad campaigns.
Best tools to use – WordStream's Google Ads Performance Grader, Spyfu (for competitive research),
Click for a free strategy session!
Engage with Your Target Audience on Social Media
Sharing content across your different social channels is a great way to gain more followers.
Spreading expertise on social media through the content you share can be a perfect way to engage with an audience and build your following, provided that you publish them at the best times.
Source: CoSchedule
However, it's exhausting to have to manually update your social media pages every day. Wouldn't it be great if you could just sit back and relax while the posts go live?
Using social media platforms, you can keep your social media presence in line with a single dashboard. Schedule posts and reply to messages from different platforms all at once!
Below are other things that criminal defense firms can do on social media to promote their practice areas:
Reputation management and social listening – Track your brand name and keywords online and see what people have to say about you and your topics. From here, reply to messages to help improve your sentiment from negative to positive.
Social inbox – Save time reading and replying to all messages from different social media platforms in a single place instead.
Competitor Analysis – Track and monitor how your top competitors are running their digital marketing strategies on social media. Analyze your competitors' types of posts, engagement levels, and followers they received over time.
Best tools to use: Agorapulse, SocialPilot
Analyze Results
Look at how your criminal attorney site has performed over time with the above tactics you implemented on your site.
This lets you see which ones worked and didn't, then rework your strategy to focus on marketing techniques that worked to increase results.
Use Google Analytics to monitor the number of visitors and which marketing channels you received for a period.
Aside from that variable, track the following metrics:
Pages with the most traffic – Identify the pages that people are interested in. The goal now is to try and keep improving these pages to generate the most ROI.
Referral traffic – See which marketing channels (organic, paid, social media, etc.) you received the most traffic. Focus on channels that yield the most traffic.
Bounce rate – Determine the average duration of your visitors' stay on your top pages. Find ways to prolong their stay, i.e. make your site load faster, improve content intro, etc.
Conclusion
There are a lot of marketing tactics you'll need to keep in mind if you want more high-value clients for your practice areas. The key is determining which techniques will work best with the resources and time constraints that come with running a law firm.
Even then, it might not be realistic to think you can do all of this yourself or even with the help of your criminal defense practice employees!
Fortunately, Constellation offers done-for-you services so that you don't have to worry about your digital marketing. Our team has extensive experience in implementing successful SEO strategies and content creation plans as well as PPC campaigns.
If you're interested in learning how to tailor these strategies to your firm's needs and maximize your revenue via marketing for criminal defense, contact us today.